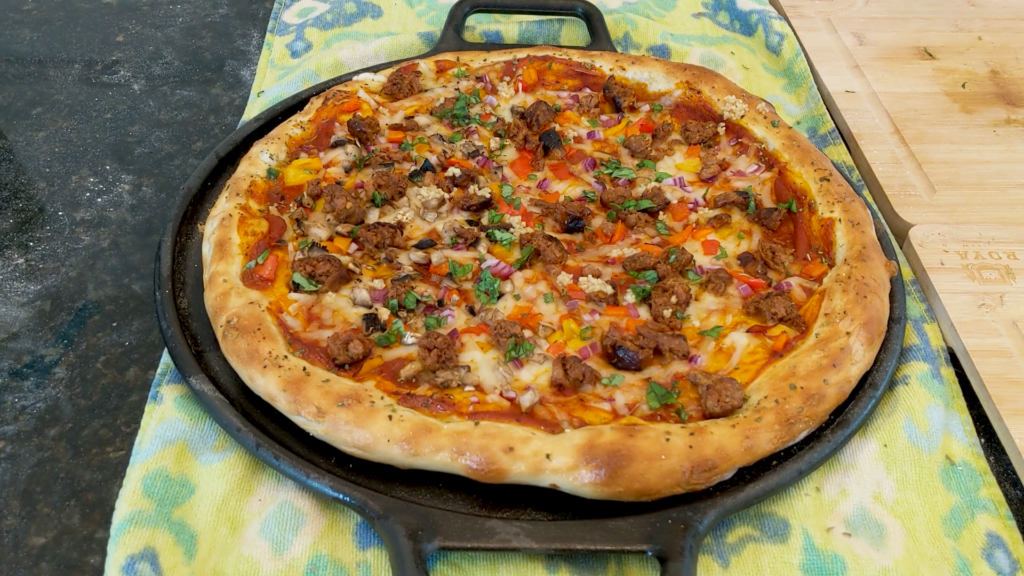 Raise your hand if you love pizza! How about Vegan Pizza? If you're saying that vegan pizza isn't a thing, get ready to be amazed! Not only is it real but it's easy and delicious as well.
Honestly, vegan pizza isn't that hard, because you just have to find alternatives for the cheese and meat toppings. The dough, sauce, and veggies are typically vegan by default, so just swap out your sausage for Beyond Sausage, your cheese for vegan mozzarella shreds, and voila! Vegan pizza.
Let's talk vegan cheeses. My two favorite mozzarella shreds are made by Violife and Follow Your Heart because they are creamy and melty, but there are many others, like Daiya and Miyoko's. Some I haven't even tried yet, so maybe my new favorite hasn't even been discovered yet! But you just need to find yours. I also like the Follow Your Heart Parm shreds as well. That will work for me in a pinch as a pizza topping. Regardless, find the one you like and use it! (They usually live in the produce section of most grocery stores).
What about the meaty toppings? Well, believe it or not, there's vegan sausage, chicken, and pepperoni out there, if you look for it. I love the Beyond Meat Spicy Italian Sausage on my vegan pizza or the Morningstar Vegan Buffalo nuggets, all chopped up. There's also vegan pepperoni by Sweet Earth. Choose your veggie meat (or not) and go for it!
What about pizza dough? You have options there as well! You can obviously google a recipe for the crust and go the homemade route, which I've done and it works! (I've even used quinoa to make a pizza crust with before, but that's another recipe for another day). But, in general, if you're a busy girl like me, just buy the pre-made dough from your bakery (I got mine from Publix– in the Southeastern US–but I'm sure other stores have them). It's all ready to go, so you just have to figure out how to flatten it onto your pizza dough and go nuts with the sauce and toppings.
From start to finish, you can probably have an amazing homemade vegan pizza in about 30 minutes. Just make sure you get enough ingredients for two pizzas, because it is so good you will definitely want more! Bon appetite!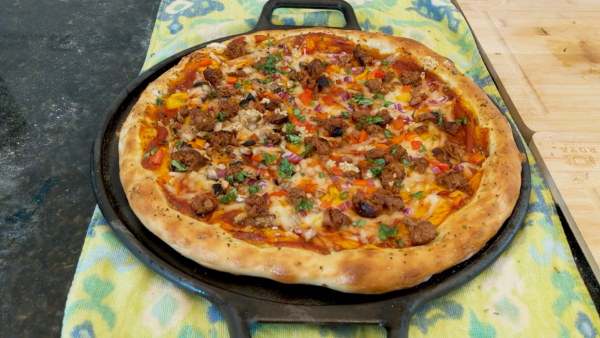 | | |
| --- | --- |
| | |
Pre-heat your oven as high to 500 degrees F (hot!) and put a pizza pan in it to heat up (ours is a big heavy cast iron one and it works great!) Prep your toppings. Work with your dough until it is stretched out thin enough and big enough for your pizza pan or to your desired size. I'm not an expert and flipping it in the air like the pros, but slowly stretching it on a clean surface dusted with flour works eventually too. You can also use your fists underneath the dough to keep stretching it larger and thinner without creating holes. One the dough is ready, take out the hot pan, dust it with corn meal, and put your pizza dough on it. Cook for just a few minutes until it's not so wet and then take it out.

Once it's slightly cooked, take the dough back out of the oven and spread on the sauce, sprinkle on the cheese, and cover in your desired toppings (leave the basil off until after it cooks!) Put it back in the oven for about 8-ish minutes or until you see the crust getting golden brown and crispy. Take it out and brush olive oil onto the crust and sprinkle Italian Seasoning onto it afterwards. Then top the pizza with the basil. Voila! Serve hot and ready.

Get ready to fight your family members for more slices...or just make two pizzas! 🙂