One of my favorite dishes before I went vegan was spinach artichoke dip, usually filled with creamy, cheesy goodness. But, once I went vegan, it was off limits to me. My choices were to never eat it again or veganize it! You know which one I chose.
So, here's my vegan version of it. Honestly, it's so easy to make and I'm really just subbing the mayo and cheese for vegan versions, so it's almost a no-brainer and really hard to perceive a big difference from the original recipe. My favorite vegan mayos are Hellman's Vegan and Just Mayo. My favorite vegan cheese for this recipe is the Follow Your Heart parmesan shreds.
This is one of my go-to easy potluck dishes or something I might make as an app for a party. It's really such a crowd pleaser and absolutely something you can throw together the day before and cook right before you need to serve it (or cook it then and reheat it the next day). Enjoy!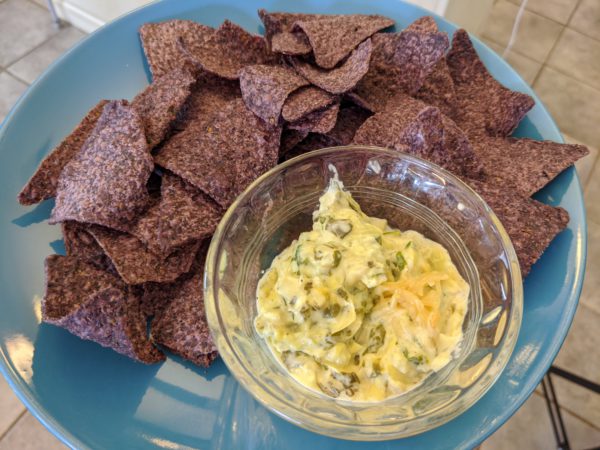 | | |
| --- | --- |
| | |
Pre-heat the oven to 350 degrees F. Pulse the spinach and artichoke in the food processor until they are in small (but still somewhat chunky) pieces.

Add the spinach and artichoke into a medium mixing bowl with the rest of the ingredients (except the extra parm for the top). My favorite vegan parmesan is made by Follow Your Heart, but you can use your favorite vegan cheese of choice. Mix well. Add hot sauce to taste.

Once mixed, put into casserole dish and top with some extra vegan parmesan shreds.

Bake in the oven for ~25-30 minutes (until it smells good and you can see the dip bubbling). Take it out and let it cool. Serve immediately or you can store it in the fridge and warm it up again before serving later.

Serve with your dipper of choice. I like pita or tortilla chips best. Veggies would work too. Enjoy! 🙂