Ever eaten these in an Asian restaurant and wondered how to make them yourself? Well, it's easy! The prep is the hardest part and it's not much more than washing and chopping up veggies. These fresh and delightful Vietnamese treats can easily be served as a light meal or an appetizer, depending on how hungry your eaters are.
You might need to go to an Asian food market for the rice noodles and rice paper, but I've also seen them in some regular supermarkets (in the International Food section). The noodles are sometimes also called rice vermicelli but are the same thing.
You can add in anything you want, but this recipe is how I make mine vegan, and my whole family scarfs them up immediately. I usually use pre-marinated baked tofu for the protein, to make my life easier, but I have also seasoned and cooked my own many times. Both taste great!
Try not to make more than you can eat at a sitting– if you try to refrigerate them, the rice paper wrapper will become hard and inedible. To store for an hour or two, you can wrap in cling wrap and keep at room temperature. It's not usually a problem, though, because they are too addictive to have any leftovers. Enjoy!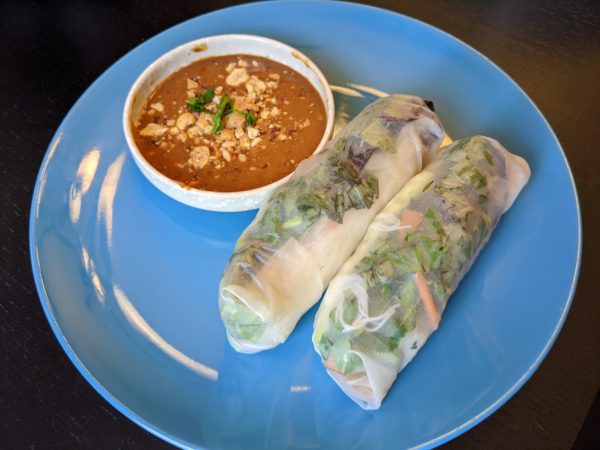 | | |
| --- | --- |
| | |
Prepare all your ingredients before assembling the rolls
First prep all your veggies that will go in the rolls. Veggies should all be washed and chopped thinly to fit into summer rolls. I prefer to peel & deseed my cucumbers, but it's optional. I buy my carrots pre-shredded to save time. For the lettuce, I recommend removing the ribs to prevent it from poking through the rice paper wrapper.

Soak the rice noodles in hot water for 2-3 minutes (until soft) and then remove from the water so they don't overcook.

For the protein, I use pre-marinated tofu if I have it (like Nasoya Teriyaki baked tofu) or you can marinate your own fresh tofu in some soy or teriyaki sauce for a few minutes. Once marinated, slice thinly and saute for a few minutes on each side until golden brown.
Assembling the summer rolls
Get a large bowl of hot water and dunk in a rice paper sheet until it starts to soften. Lay out on the cutting board and layer in all your ingredients. Wrap up like a burrito, folding all the edges in, and roll up as tightly as possible. Repeat until you've made enough for everyone (this recipe should make about 8 summer rolls).

Mix up all the peanut sauce ingredients together (with or without the hot sauce) and serve some in a small dish topped with crushed peanuts to dip the rolls in. Bon appetit!