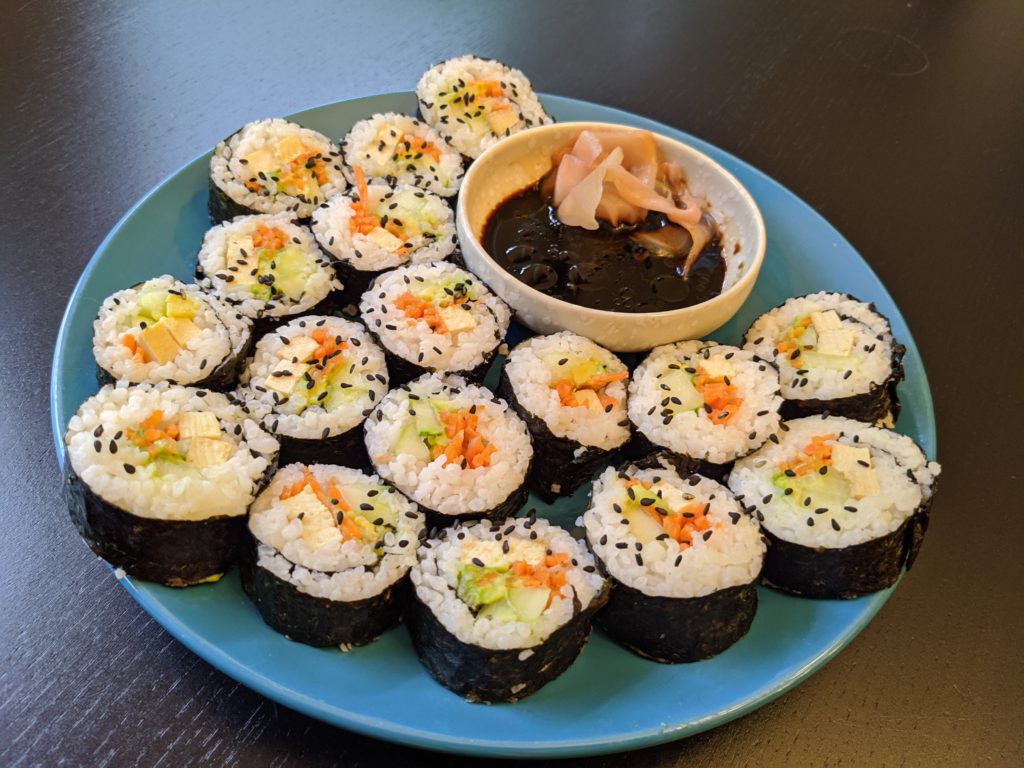 Who loves sushi? I don't know anyone who doesn't, so I assume you do too. Guess what– you can make your own so easily! Just buy a bamboo sushi mat from the store or Amazon and you'll be on your way.
Some of the other ingredients you might not have in your house are the seaweed sheets (Nori) and sushi (short grain) rice. I think you can get both at some regular grocery stores, but they are definitely at Asian food stores.
What should you put in your sushi? Whatever you want! I usually do cucumbers, carrots, and avocado. But for this recipe, I also added tofu for some extra protein and creaminess, and it worked just fine! Other ideas: asparagus, sweet potatoes, and pickled daikon are also good in there. Go nuts!
Once you've got your filling and rice prepped, all there is left to do is wrap them up. It gets easier as you go, so just practice practice practice. The tighter the better for the sushi staying together, once it's cut into pieces.
Remember that water is your friend when it comes to the sticky rice– have a clean bowl on hand for spreading the rice with wet fingers and cutting the rolls with a wet knife. Makes things much easier. Bon appetite!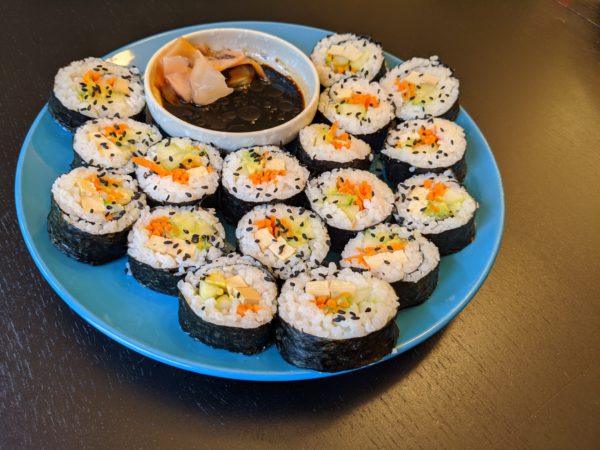 | | |
| --- | --- |
| | |
Prepare your rice. Cook 2 cups of sushi rice and then mix with rice vinegar, sugar, and salt (pre-mixed and heated in the microwave to dissolve the sugar and salt). Mix up and set aside.

Prep your fillings. Slice cucumbers, tofu, carrots, and avocado thinly. (To save time, you can buy pre-shredded carrots).

Once all the ingredients are prepped, lay a sheet of nori onto your bamboo mat and scoop about a quarter of the sushi rice onto it. Spread and press it down with clean, wet fingers until it's covering all of the nori except for a little bit at the end (you need a "tab" of nori without rice on it to stick down to itself when rolling).

Put in a strip of all your filling veggies/tofu near the beginning of the roll (nearest you). Once it's all layered in, start rolling the nori (with the bamboo mat) up into a tight roll. Remove from the mat and slice into bite-sized pieces with wet knife.

Top with black sesame seeds and serve with soy sauce, pickled ginger, and wasabi (optional). Each fresh and enjoy!