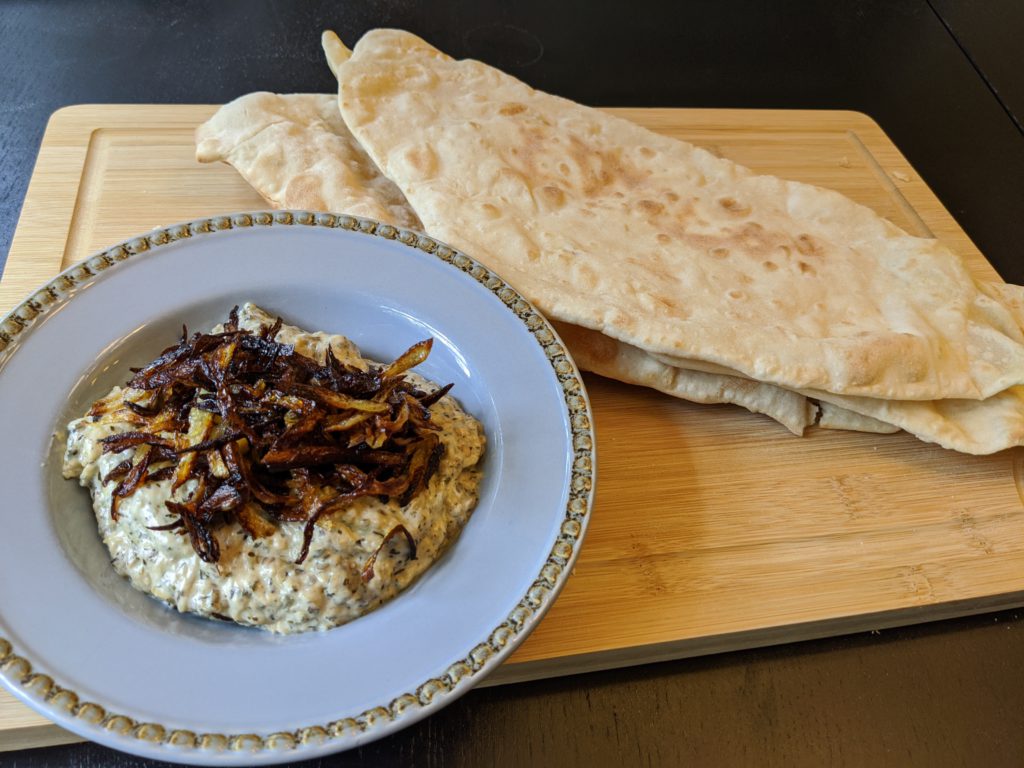 If you've never tasted Kashke Bademjun (Persian Eggplant Dip) before, you are in for a treat! It's not like any other eggplant dip you've ever tried. It's full of mint, garlic, olive oil, and yogurt. In this case, because I'm a plant-based cook, I used vegan sour cream in place of the yogurt and I honestly found the dish just as creamy and delicious. You won't miss the dairy at all!
Maybe you're not a big eggplant fan, due to its sliminess and I'm right there with you but– and it's a big but– give this dip a try anyway. The roasting, cooking, and mixing up with all the other ingredients really turn this into a velvety and delicious dip, scooped out onto homemade flatbread, and you'll learn to love eggplant this way.
Speaking of the bread, I did actually make lavash (flatbread) from scratch, using a recipe I found online: https://tarasmulticulturaltable.com/lavash-armenian-flatbread/ (It's an Armenian flatbread recipe instead of Persian, but I thought it was close enough). Alternatively, you could just buy flatbread from the store and toast it for a few minutes and cut it into wedges.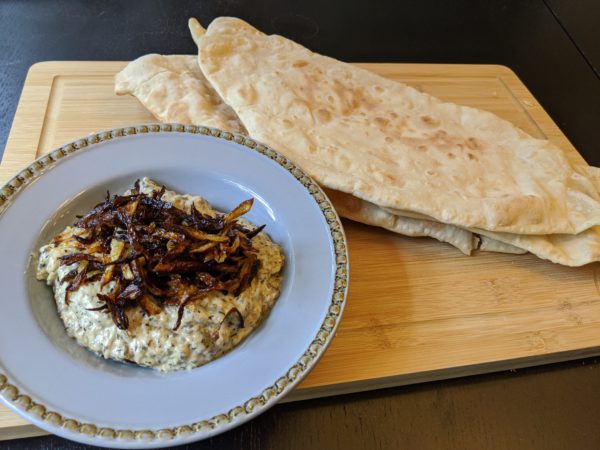 | | |
| --- | --- |
| | |
Pre-heat oven to 425 degrees F. Cut a large slit into each eggplant from top to bottom so it won't explode in the oven, and place on a baking sheet. Roast the eggplants in the oven until very soft and falling out of the skins. For me, that usually takes about 1 hr and 15 minutes. (Some liquid will drain out, so line your pain with something disposable or washable).

While the eggplant is cooking, slice up a white onion and fry it until crispy on medium high heat in 3 TBS of olive oil. That will be your topping.

Once the eggplant is out of the oven and has cooled a bit, scrape all of the flesh out of the skin into a frying pan with 2 TBS of olive oil on medium heat. Stir and smash it up until smaller chunks/creamy. Add mint, lime juice, salt, garlic (minced), and pepper. Alter the herbs to taste, but this is how I feel it tastes the most like my Iranian father's Kashke Bademjun.

Once all incorporated, add in the vegan sour cream (you could also use vegan plain yogurt, like Kite Hill's almond milk yogurt). I used the Tofutti sour cream and it was awesome. I've also tried the Follow Your Heart sour cream in other dishes and liked it, so that's an option too. Find what you like and add in 1/3 cup. Mix well.

Once it's all mixed up, put it into a serving dish and top with your crispy onions. (One variant of this recipe is to add chopped walnuts for more crunch). Serve with flatbread and enjoy!

If you want to follow the recipe above for your own lavash/flatbread, you will need to be prepping that as well. It adds about 45-60 minutes of prep/cooking time, but you can be doing both the dip and the bread at the same time.

Serve dip and bread together. Good luck not eating it all in one sitting! It's best shared with family and friends.